There was also a wealth inequality which was spreading to greater extent in China. Regions close to coastal area became wealthier and areas within the middle of the state were getting poorer. The government also inherited $586 billion of stimulus programs for infrastructural programs, technological advancement and social welfare programs. These strategic initiatives helped the country to grow at the rate of 8.5%, exceeding the target of 8%.
DOMESTIC AND INTERNATIONAL OBSTACLES TO SUCCESS:
The obstacles arising in the way of success is firstly, the rise of inequality between rural and urban areas. A study by Chinese institute indicated the gini coefficient of 0.60  is considered as high income inequality in the country, although, it has declined from 0.61 to 0.60 in 2014 but still it is considered to be the high concentration of inequality in the country. Obstacle including price bubble of properties could lead to an unstable economy as the government received major chunk of their revenue from selling the lands so if the price bubbles then it will be difficult for the government to finance its project and government then has to rely on debt to finance their projects causing the negative impact on fiscal account.
One of the leading obstacle arising is the health deterioration in China. Although the country has improved its healthcare facilities and healthcare subsidies with decreasing mortality rates and increasing life expectancy rates but still  it is lower than the average number in the world. The government's healthy China program will provide annual insurance program covering unemployment in rural and urban areas of China by provision of employment to the people living in urban as well as ruler areas. The health incompatibility is also affecting the Chinese population leading China to face population crisis. The three decades program of having only one child brings China into conditions of less youth and increased senior citizens which is a disadvantageous part to the companies because of more pension fund transfers to senior citizens will effect the governmental funds because government has been transferring pension for many years from government pension fund account affecting the financial performance of the country. This negative impact of transferring fund causes fiscals fund to deteriorate. To overcome this obstacle government has increased the age of retirement.
The environmental obstacle led the Chinese government to shift its electricity production from coal fired power plants to nuclear plants, wind turbines and fuel powered plants. This arises the need for China to imports fuel and gasoline to power plants for the production of electricity. China has become one of the leading importer of oil in the world in 2014, causing its debt to increase further. To overcome this rising debt, China has implemented the strategy to boost its three major oil producing companies. Spreading the operations of the offshore oil companies through exploration and development of oil. China's aim is to explore resources from resource rich countries to overcome the debt crisis of the country.
Foreign companies in China are also reluctant to do business there as China is infamous for its discriminating nature toward companies due to which companies tend to locate in countries other than China which is causing China to become a nation with the slow growth and development. The reason behind discrimination of China to these companies is to protect their domestic industries and to ease the competition for them. To overcome all the challenges faced by China in 2013 a strategy "one belt one road" (OBOR) was initiated by China to access economical trade with other Asian countries and reduce reliance on west. The one belt one road initiative will help the country to achieve the objectives of maintaining in GDP growth to above 6.8% annually and less reliance on ships to import and export goods which causes heavy fuel damage to China and increase its cost of operations.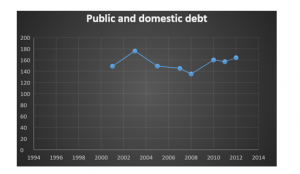 This stabilizing trend in debt must be decreasing in order to overcome the obstacles faced by the country.
CONCLUSION:
China, which is one of the leading economy is currently facing continuous challenges in increasing its GDP output to sustain it at a target level of 6.8%. To overcome these challenges several key steps are taken by the government to get rid of this decreasing GDP environment but the technology advancement in different countries is taking the share of China's GDP and giving tough time to China regarding technology advancement and services. As China is also undergoing technological advancement and has taken other key initiatives to rise again as one of the fast paced economy but under my consideration these steps will take at least 2 to 3 years to overcome GDP decreasing environment...............
This is just a sample partical work. Please place the order on the website to get your own originally done case solution.