Cola Wars: Coke And Pepsi In 2010 Case Study Solution
Degree of rivalry:
These two competitors dominate the majority of the industry. In spite of their rivalry, they have carefully and very smartly avoided a price war between them. They realised that if the war between the two brands intensified, it would do neither of them any good. They have an established reputation.
Complementors:
There are many products that complement Coke or Pepsi when consumed with it and they positively affect the demand for it. For example, hamburgers, hotdogs, and nearly all of the junk food.
Implications for Strategy Formulation:
Strategies of Pepsi and Coke are continuously changing. As part of these strategies, they have entered into long term contracts, consolidated their respective bottling franchise, they have also expanded and entered into the non – carbonated soft drink market. Pepsi has been entirely focused and fixated on Coke being the one that they have to beat in competition for such a long time. And the case of Coke is not much different. One firm is competing against the other firm of relatively the same size.
Strategies of Pepsi over time has involved "Beat Coke", "Pepsi Generation" and "Pepsi Challenge". However, strategies for Coke over time have involved "America's Preferred Taste" and "No Wonder Coke Refreshes Best".(David B. Yoffie, 2011)
As a result of the "Cola war", the two brands have challenged each other. They have re-negotiated the franchising of the bottling contracts. They have diversified into non – carbonated soft drinks. They have also launched various different flavours.
Conclusion:
Coke and Pepsi have a footprint in every country of the world, and people around the globe consume these beverages more than any other drink. Both of the carbonated drinks have an enormous brand value;both of their marketing and advertising campaigns are commendable. They have the largest market share, and have the most loyal customers any brand may wish for,but they should focus more diversification, and address the health concerns that their products have in order to satisfy their and retain their customer base.
Appendix
Appendix –Six Forces Analysis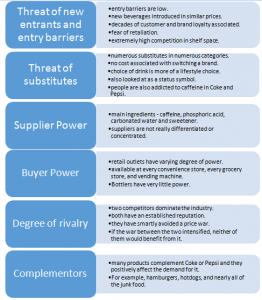 This is just a sample partical work. Please place the order on the website to get your own originally done case solution