Remaking Singapore Case Study Solution
Competitive Position
The country has immensely transformed from a third world country into a developed nation. It had limited resources, immigrant population to accommodate with no outside country's help. Today it has a flourishing economy. Singapore has several competitive advantages to other countries, which are as follows:
Since the county is lacking in natural resources, it has little to no choice at all. It has faced challenges since its independence, so they have learned to deal with challenges in a pragmatic way. IT knows about the forces that that impact the economy, analyzes its signals, and act quickly to mitigate adversities.
The early success the country has to give credit to its first Prime Minister Lee Ku an Yew. When it had nothing, it had a leader like him who brought Singapore from grounds to one of the highly developed country. He used globalization to bring development to the country not just in materialistic terms, but also in attributes. Singapore has a strong economy based on honesty and pragmatism.
The geographic location of the county has played a very important part in its transformation to a first world developed economy. It was very little at the time of independence, therefore, leaders of Singapore used what they had to use for their advantage. It was a city with harbor which was located right between the trade route of east and west. It was an excellent harbor which had the convenience of trading and exchange of information.
Singapore has the required workforce for every task. It can easily devise strategies that can be implemented to have a sustainable economic and financial system. It welcomes the talent from throughout the world and believes in organizational and governmental cooperation.
Growth Strategies
The government must promote startup businesses and help them maintain their operations by providing them supervision. In addition, regulations related to entrepreneurship must be simplified so startups owners are encouraged to properly establish their businesses. Modularized training classes must be made compulsory on adults so they can acquire innovative skills under various qualifications frameworks.
Singapore needs to deepen its international relations and diversify with other multinational institution. This in turn would promote the trade between countries resulting in more revenues and employment. The working needs to be done on tariff rates to encourage import export from the locals. Strengthening international relationship with Europe and other world would also increase employment opportunities.The tertiary sector of Singapore also needs to link up with overseas partners for further innovation of the hub and local market
Singapore is a hub of Southeast Asian regions; it should construct a framework to further develop the infrastructure. Changi airport can be expanded with a 5th terminal. Cargo port can be constructed in Tu as along with speed rail line in Kuala  . An underground urban infrastructure can also be developed.
These infrastructural developments will lead a road towards faster economic growth and will attract more multinational companies to setup. Solid infrastructure not only provide the facility to work in but also creates job opportunities (Angelstorf)
Focus shall be made on developing strategies that help develop new technologies for the business. Projects of data science and data collection must be promoted. The world is moving towards the era of digitalization. It is significantly important to keep in touch with the technology and establish all the business related work on digital platforms. Lesser manpower is required when system is digitalized. Accuracy of the work also improves.
Incentives must be provided by the government, to promote start-up growth. Research and development plans must be developed for the startups to improve their current operations. Workshops and trainings must be provided so startup owners can have a road map to follow.
Alternatives
Alternative 01–Emphasizing on High Value Services
The government could indorse Centre of Excellence in Business,Risk Valuation Management, Internal Audit, Taxation and professional growth and development for CFOs via various incentives including tax concessions. The entry barriers would be reduced by de-regulating in the public accountancy firm's ownership. The competence of Small and Medium-sized Practices (SMP) could also be upgraded by government via providing incentives for business collaboration, training and technology investment.
Alternative 02 –Supporting Accountancy Education and Research
The Accountancy Education and Research could be strengthened by establishinga Singapore Qualification Program (SQP). It can also create specialization pathsviaenhancing value in specializations such as risk management, internal audit, Taxation and professional growth and business valuation for Chief Financial Officers (CFOs) via competency frameworks, qualifications and certifications.
Alternative 03 - Strengthening the Accountancy Infrastructures and Institutions
The government could inspire the Institute of Singapore Chartered Accountants (ISCA), the national accountancy body for the purpose of repositioning with an international stance. An Accountancy Sector Development Fund (ASDF) could also be establish in order to incentivize the determinations to raise productivity, build capability,and encourage the regionalization.
Recommendations
As per the CDAS reports vision, Singapore has the potential to become Asia Pacific's leading accountancy hub by 2020 (Tan Boon Seng). Singapore should stick to its current practices when it comes to running the system honestly. Just a little more focus has to be paid on diversification in international trade.
It is recommended that the government should incentivize grants and tax concessions in order to provide the financial assistance to organization in growing and adding location in particular area and serve for other chosen purposes. The deregulation of the ownership of public accountancy firm would help the economy in reducing the barriers to entry. In addition to this, it would most likely upgrade the competency and proficiency of the small and medium sized practices (SMPs), and this could be done by providing inducement for training, investment in technology and innovation breakthroughs and business collaborations. By focusing on the high value services, the government would be able to boost the economy by increasing GDP of country, and by providing the range of new and traditional export opportunities. In short, the higher growth and development of the service sector would likely gives a new dimension of stability to the growth process of Singapore.
Exhibit A – SWOT Analysis
Strengths
Weaknesses
Opportunities
Threats
      Stronger consumption ability

Pleasant business environment

Easy to start business

Low terrorism and political violence

      Closes to BRIC countries

Island size

Global orientation

Government involvement

      Land may increase

Emerging markets

Tourism country

      Incomplete supply chain

Rising sea level

Multi lingual nation
Exhibit B – Alternatives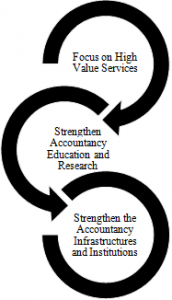 This is just a sample partical work. Please place the order on the website to get your own originally done case solution.